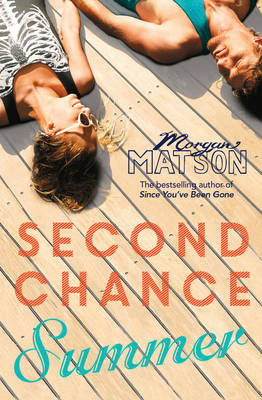 Taylor Edwards family might not be that close – everyone is a little too busy and overscheduled, but for the most part, they get along just fine. Then Taylor's dad gets some devastating news, and her parents decide that the family will spend on last summer together at their old lake house in the Pcocono Mountains. Crammed into a place much smaller than they are used to, they begin to get to know each other again, but as the summer progresses they're more aware than ever that they're battling a ticking clock. And as Taylor tries to deal with the drama at home, she is faced with the fact that the friends she thought she'd left behind haven't actually gone anywhere. Her former summer best friend is still living across the lake and still as mad with Taylor as she was five years ago, and her first boyfriend has moved in next door… but he's much cuter at seventeen than he was at twelve. Can one summer be enough time to get a second chance – with family, friends, and love?
My Thoughts
Morgan Matson is a beautiful writer, her words are simple but the story is deep.
I feel like recently I've been attracted to books that are going to make me emotional and second chance summer was no different.
In the beginning of the book you are instantly thrown into the world of Taylor, you are in her head from the first word. You are brought on a journey with Taylor as her family have one last summer together. Which as a reader makes you think what it would be like to be in Taylor's shoes and how you would deal with that? I think it was so beautiful that the development of Taylor was so gradual because it helped you really understand her and her thought process.
I loved watching each character go through their different things and how they each developed into some completely different by the end. My favourite character was Taylor's ex best friend Lucy because I could just relate to her so much, she is just so much like me it's actually funny.
The ending killed me it was just the way I wanted and I love being satisfied at the end of a book.
What Morgan Matson book should I read next? I've already read Amy & Roger's Epic Detour.
Rating: 4/5
Published By : Simon & Schuster Ltd